Audio | Voiceover Production Services
Years of Broadcast and Marketing Experience
We make your audio, video and podcast marketing both stunning and effective.
Food for the Ears, and Eyes
Our team can assist you with a variety of audio/video projects that integrate with your overall marketing campaigns and strategy.
These include:
Audio ads and voiceovers for traditional radio and TV commercial campaigns focused on frequency and response.

Voicetracks for video marketing creatives.

Long-form Audiobooks and narratives.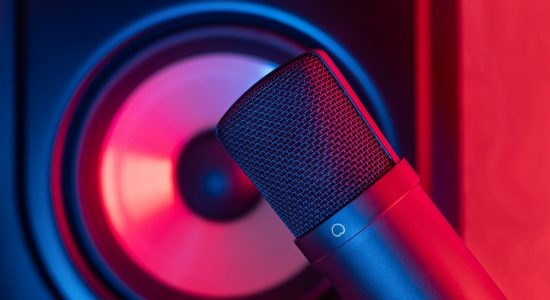 Audio / Voiceover Production Services
Whether you need a natural, compelling and clean voice for quick turnaround on individual commercial spots, or if you need a fully devised radio or podcast campaign with scripts, themes, and fully produced finished products, Crystal Coast Media can deliver in high fidelity with fast turnaround times.
Our Audio & Voiceover Production Packages
Our simple packages set voice-over rates per increment of time, making it easier and faster for you to gauge your required voice-over recording investment.
Notes:
* Local market usage rate only.
* For national use/distribution, please use our contact form at the bottom of the page below for a custom quote.
* Voice actors woork non-union.
* Rates are in US Dollars and include full buy-outs and session fees.
* Rates are for finished dry voice only.
* Any post-production required is additional (approx. $100/hr).
* All rights reserved to charge varied fees based on specific voice master hired.​
Need Audio Post Production?
Already have the script and vocals, just need post editing?  Sure.  Fee negotiable based on scope of project. Contact us today.
Interested in Broadcast Retainer Packages?
Sure thing! Here are a couple of example situations:
Voice Only – One sheet per week consisting of no more than (2) :60 promos and (10) sweeps. Substitutions may be considered on a per-project basis.
Imaging and/or Commercial Production – One sheet per week consisting of no more than (1) Promo and (10) Sweeps or IDs. Substitutions may be considered on a per-project basis.
Need Something A Bit More Customized?
Need a custom solution for something more extensive? Need a longer audio produced such as an audiobook, or even an entire series? We can provide a bespoke package to your exact specifications. Contact us for details.
Helping businesses of all sizes...
We enjoy assisting you in your journey to move to digital, create more effective marketing channels, assess effectiveness, and enhance (or re-design) your digital presence. Simply put, your success results in our success.
"The Best Quality Material and Finished Work"
I have known Gavin P. Smith of Crystal Coast Media for more than 18 years. During that time, I have known him to not only produce the best quality material and finished work, but through the process of educating and ascertaining information from the client, his team at Crystal Coast Media creates a fluid image. Ever hear the term "I saw it on the radio" - That's Gavin & Crystal Coast Media!!!!
Would you like to start a project with us?
If you're interested in leveraging the full power of digital marketing and social media to grow your business, contact us with your specific needs today.